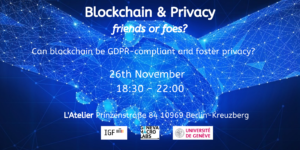 Blockchain & GDPR – Friends or Foes?
GDPR compliance is an often neglected part of blockchain applications. GDPR needs to be considered by design. This is especially true in distributed ledger technology, where problems in an immutable system are difficult or impossible to fix after the system goes live. GDPR compliance for blockchains still faces a lot of legal uncertainty. Projects like DIN SPEC 4997 – Privacy by Blockchain Design – as well as this conference, aim to improve clarity and to establish best practices. This conference is a unique opportunity for the Primalbase community and others in the blockchain space to be part of an in-depth discussion between legal and technical experts. After a day of intense discussions with more than a dozen presentations have addressed specific aspects like "blockchains and the transfer to third countries", "the household exemptions for privately motivated transactions on public blockchains", "the nature of hashes in regards to personal data" we will summarise the results in an easily digestible format and give the community a forum to network and discuss the issue with experts in a relaxed atmosphere.n-Depth-Seminar for legal and technical experts.
What?
What are the problems of Blockchain and GDPR and possible ways to ensure compliance.
6:30pm Doors open
7:00pm Introduction by the host
7:15pm Blockchain & GDPR by Jörn Erbguth
A conclusion of today's conference
8:00pm A GDPR Code of Conduct by Silvan Jongerius
Silvan Jongerius has been exploring the 'Code of Conduct' instrument of the GDPR and which issues it could resolve for the use of Blockchain & DLT. As Managing Partner of TechGDPR and co-chair of the INATBA Privacy Working Group, he is currently conducting a feasibility study and having early conversations with stakeholders from the regulators, industries, and possible proposing and monitoring bodies. In this session he will present his findings and solicit feedback from the audience on the usage of this particular instrument to clarify the situation of Blockchain technologies under the GDPR.
8:30pm Fake Blockchain News by Olga Stepanova, Alexis Cosson, Katrin Kirchert, Jörn Erbguth
What you never wanted to know about Blockchain because it is simply not true.
9:00pm Networking, Drinks, Fingerfood
When?
Tuesday, November 26 2019
7pm-10pm (doors open 6:30pm)
Where?
Location changed!
Atelier
Prinzenstraße 84.2 (Entrance Oranienstraße)
Rooftop Loft am Moritzplatz, 10969 Berlin
U8-Moritzplatz
Registration
We are full. If you want to be placed on our waiting-list, please direct inquiries to jorn@erbguth.ch.